'Latest News' Archive for August 2013
ADOPTED!!  

Facebook fans helped name this sweet girl "Twinkie," because she's making a comeback, just like the snack cakes.  Twinkie is only 9 pounds, and has a full tail that she loves to wag.  She is friendly and gets along with all the other dogs in her foster home.  Because of her sweet nature, we think she would be fine with children, especially if they were dog savvy and were kind to her.  We think she is from 3 to 4 years old, and rides wonderfully in a car.  She walks well with a harness and leash, and loves to go everywhere with her people.  She has been a little sneaky about following her foster parents into the garage when they are trying to leave her behind!  But she comes to you when called, and will reluctantly stay behind.  Twinkie is housebroken with a doggie door, and is playful with toys.  She doesn't bark much at all, and is very quiet and docile.  Twinkie is a type "B" rat terrier, which means she has shorter legs than a type "A."  Twinkie is a healthy, happy girl who is anxiously awaiting a new family, and she will reward them with lots of kisses and cuddles.  She is the perfect size for a lap dog, and that's her favorite place to be!  For photos of Twinkie in her foster home, check her album here:
ADOPTED!!    

T

ipsy lost her family when her owner became desperately ill and could no longer care for her.  She was pulled from a shelter in North Little Rock, Arkansas.  This sweet girl has been well-loved, socialized, and is a wonderful little girl.  Our vets estimate her age between 4 and 5 years old, and she weighs only 10 pounds.  She walks great on a leash, seems to love everyone she meets, and will do anything you ask of her.  She is housebroken and loves the doggie door in her foster home because she can go outside any time she wants.  She saw a cat at the vet's office and was extremely interested, so we suspect she would chase a cat.  Her temperament suggests she would be fine with children, especially those who have been taught how to treat a small dog.  Tipsy will only get up on the bed or a couch when "invited" to jump up.  The only behavioral problem her foster mom reports is that she will try to dart out a door so she can go with you when you are leaving the house, but that is beginning to resolve itself, now that she knows her foster mom will return.   The perfect home for this little darling would be a home with a fenced yard, since she has a propensity to try to explore.  Tipsy has been crate trained, and will often take naps in a crate with the door open.  Tipsy is a happy girl who will jump with joy when you come home.  Her foster family is already in love with her, after only a week.  If you are looking for a special little girl, this may be the one!  Check her album for updated photos in her foster home, click here: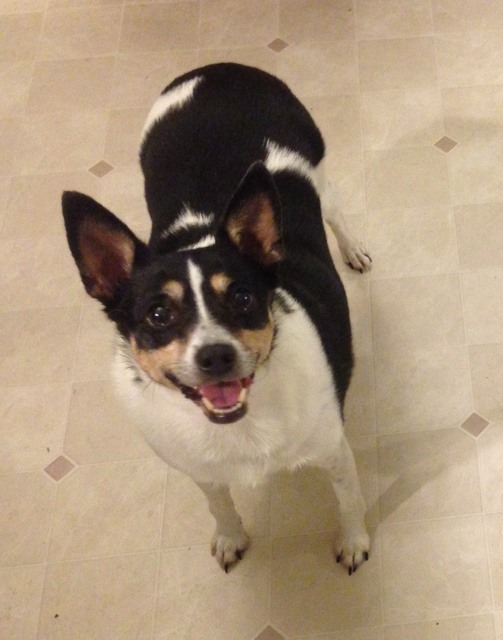 ADOPTED!!  
Baby is an independent, easy-going, friendly young girl who loves walks around the neighborhood just as much as curling up next to you for a nap. Though likely she began her life as a beloved family member, she somehow found herself as a stray, then sharing a small kennel with other dogs in a high-intake municipal animal shelter. Now safe in a volunteer foster home, she is doing great meeting new dogs and working to lose a few extra pounds she likely acquired from too many meals of table scraps, an over abundance of treats, and no exercise.  She is leash-trained, crate-trained, and rides well in the car. She enjoys chewing on her Nylabone, but would prefer human attention over toys any day. Baby gets along well with other dogs and loves to go on leashed walks with the family. She tends to bark at the cats she sees but hasn't had an opportunity to be 'up close and personal' with one yet. She does fine with children.  During the day while her foster parents are at work, she enjoys napping in her secure crate. However, at night, she really wants to sleep near you! And since she lies right down at the foot of her foster mom's bed and doesn't move a muscle, she usually gets her wish. Baby will need a 'forever' family who is willing to stick to her diet plan which includes daily leashed walks, a strict prohibition of people food, and limited treats. It is very important to Baby's overall health that she lose her excess weight and keep it off for the rest of her life.  Baby is approximately 18 months old and weighs about 17 pounds. She is spayed, fully vaccinated, heartworm negative, and microchipped.  Baby would be a wonderful addition to just about any family.   
For more photos of Baby in her foster home,
visit her album often for updates
: 
Or watch her in action: